I am the founder of 'Delicacy Of South Asia Ltd', a Nottingham based, artisanal food manufacturing company. My new business at Delicacy Of South Asia (DOSA) is proud to be the first company in the East Midlands to produce the exciting traditional product of 'Crêpe Dosa Batter'. 
Inspiration and Aspirations
My passion for food comes from growing up around the delicious aroma of home cooking. The inspiration for the company vision has derived from watching and learning from my mother's experiments with unique and extravagant flavours to add vigour and spice to historical methods of cooking and original Indian recipes. I soon learnt that whilst tradition is important, making things your own with a touch of individualism can enhance a product if it's done correctly and I endeavour to do this at DOSA by incorporating our family story and my own personal values into the business.
Crêpe Dosa Batter
The origin of dosa is in South India. A healthy and popular dish in India which I have no doubt will gain huge popularity in the UK once it is made more accessible and the benefits are highlighted on a mainstream level. It has a pancake-like texture containing healthy carbs and its extreme versatility make it ideal for fillings to mix and match or tailor to personal taste if you like routine. Crêpe dosa batter is gluten free and suitable for anyone following a vegan lifestyle as well as people wishing to experiment with traditional Indian cooking with 100% natural ingredients.
Manufacturing and Preparation
Our traditional manufacturing and the way in which the product is prepared will not restrict the nutritional elements and healthy benefits dosa has become known for. We have imported stone grinder from India to provide our customers with an authentic taste from traditional production methods. The plant based, fermented food, healthy carbs and huge source of protein are conjured into a flavoursome delicious meal ideal for fast and busy lifestyles which require quick and easy preparation and seamless functionality. Our commitment to quality is emphasised by our specific artisanal techniques which produce the most delicious flavours.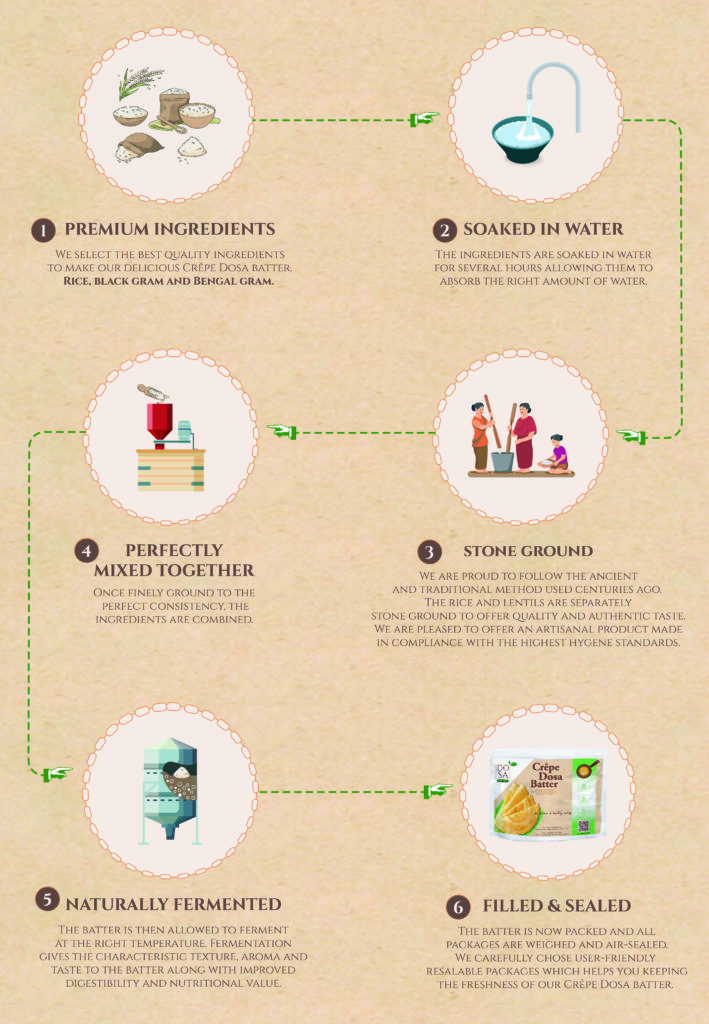 Serving and Nutritional Benefits
Usually served as a breakfast but also typically fashioned as a speedy healthy lunch/Dinner option, a classic Indian dosa can be filled with spicy potatoes and vegetables to provide huge nutritional value and extreme taste. Accompanying sauces can be dictated by personal taste or by the traditional regional guidelines originated in India to enhance the rice and lentil based batter product. Dosa is a quick, healthy and versatile dish that is perfectly adaptable for life on the go when you don't have time to prepare full meals but at the same time don't want to lose your nutritional balance and intake. You can explore dosa and create your own delicacy according to your taste and your cravings . In addition to a savoury crêpe make it a healthy alternative to your bread from a sandwich to a pizza and more . Our product is vegan friendly and suited to people following a gluten free diet, anything that goes into a sandwich can be a perfect filling for a crêpe dosa
Interactive Assistance
Personally, I know that any success I have achieved to date has not been without help. So if you need help with dosa questions, dishes and ideas or want to enquiry about the tantalizing offerings on the Delicacy Of South Asia website and order some delicious 'Crêpe Dosa Batter' please get in touch via my email contact@delicacyofsouthasia.co.uk. I am always available on the company social platforms below and look forward to interacting with you. Check out the @delicacyofsouthasia handle on
Instagram
Facebook
Twitter
Youtube